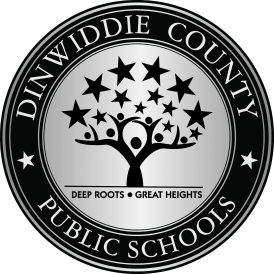 Welcome to Dinwiddie County!  We are happy you have decided to make Dinwiddie County Public Schools your employer of choice, and we welcome you to our workforce.  Please read below for instructions on completing your new hire (on-boarding) documents.
To speed up the on-boarding process and prepare you for your first day, we have provided many of the required pre-employment documents you will need to complete.  These can be filled out online, meaning that you can type in your information and print them to save time and to ensure that the information is easily readable.
Note:  These documents are intended for use only by new hires, current Dinwiddie County Public Schools employees and volunteers.  Adobe Acrobat Reader version 6.0 or later is required to view the pdf files.
Required Pre-Employment Documents Instructions:
Complete ALL of the required pre-employment documents within your selected packet; print them out; and turn in to the Human Resources office on or before your scheduled on-boarding day. Please do not use staples.
If you do not have access to a printer, you may complete, save to a flash drive and bring to your scheduled on-boarding day or schedule an appointment with the Human Resources office to complete.
DO NOT SIGN DOCUMENTS. Employees must sign all documents in the presence of a Human Resources representative.  We will notarize any required documents for you; therefore, it is very important you only complete your personal information and DO NOT SIGN.
The Human Resources office is located in the Pamplin Administration Building, 14016 Boydton Plank Road, Dinwiddie, VA 23841.
Required pre-employment documents may be submitted any time prior to your scheduled on-boarding day Monday – Friday, 8:00 a.m. to 4:00 p.m. in the Human Resources office. No appointment is necessary if all documents have been completed. We cannot accept any documents through email, except the signed Letter of Intent when applicable.
Remember to bring the required identification(s) to complete your I-9 form and a voided check or verification of account information from your bank (most are available online) for your direct deposit.
If you have any questions about these requirements, you may contact Human Resources by email or phone.
REQUIRED DOCUMENT PACKETS
I-9 (Do not complete page 2)