New Online Application Portal
June 23, 2020
Good Afternoon Team Dinwiddie!
Dinwiddie County Public Schools employment opportunities can be found on our new TalentEd portal at https://dinwiddie.tedk12.com/hire/ as of June 22, 2020.  We believe this change will provide a more user friendly interaction with our applicants and hiring managers.  If you forget your password or need login assistance, simply click  the "I forgot my Username or Password" link under the Menu.  Below is how you can access that as well as information on how to apply for positions.
Please take time to review the information below to address password resets and other frequently asked questions.
---
How Do I Reset My Password?
In the Menu section, click "I forgot my Username or Password", then enter the email address associated with your candidate account. For security purposes, if you enter an alternate email, the system will NOT send the password reset email. You will receive an email with your username and a link to reset your password.
If you attempt to reset your password several times, only the reset password link in the LATEST email you received will work.
How do I Recover My Username and/or Password?
If you can't remember your username or password, please read the following carefully.
On the login page, click "Having trouble logging in" and enter your current email address. This takes a few seconds, so be patient. Three things can happen after entering your current email address:
Scenario 1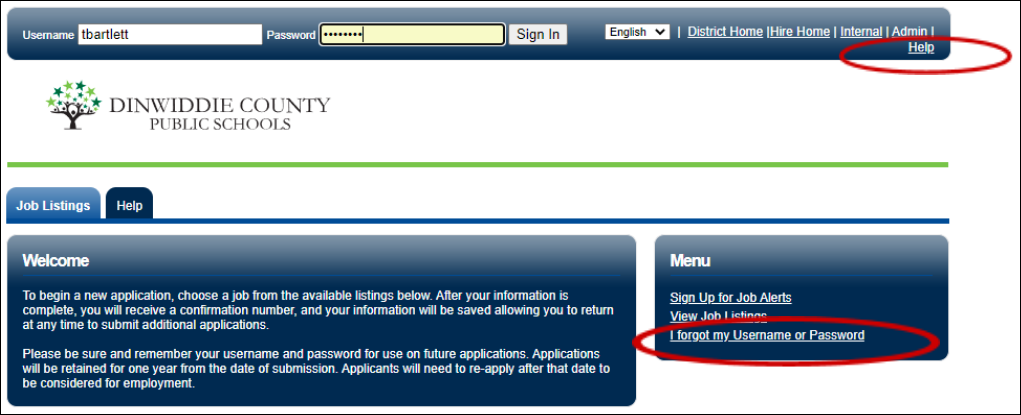 You find an account based on your current email address, and security questions are set up. If so, you'll be prompted to answer the security questions, create a new password and be taken directly into your account. Passwords need to be 8 characters long and are case sensitive.

Scenario 2
You find your account but security questions are not yet set up. You'll be instructed to select an account and click "Send Recovery Email." An email with recovery instructions will be sent to your email.

Scenario 3
You no longer have access to the email associated with the account, so we don't find any account. You'll be asked to click the Send Recovery Email, but when you click it, you get this error:
A problem has occurred!
The e-mail address does not match an existing user. Please check your e-mail address and try again. If you still need assistance, please click here.
Please allow up to 48 business hours for password reset requests.
How Do I Apply for a Job?
Once you find a job that you would like to apply for, simply click on the title of the job (for example, "Maintenance Technician") or click Apply.

You will be taken to a page where you can review a description of the position and apply to it by clicking Apply for This Position at the top right.
The next page will present three options.  The first will prompt you to create a new account if you are a new applicant to this district/organization.  The second allows you to login if you have an existing account for this district/organization.  The third gives you the option to transfer some information from your account with another district/organization that uses TalentEd.
Once you have submitted your information in one of these three boxes, you will be taken to the actual application.  On the right-hand side of the screen, you can see your progress as you move through the application.  You must complete all required fields and click Save and Continue on each page to progress through the application.  Please note that while you can leave the application at any time, you must click Save and Continue in order for the system to save your information on that page.
* Note that a period of inactivity will cause the system to log you out, so do not step away from your application without clicking Save and Continue or information you have entered may be lost.
Once you have completed all pages and have reviewed your information, click Save and Submit. Once your application is successfully submitted, you will receive a confirmation number. You can use this confirmation number to reference your specific application. You will also be able to see the status of all applications you have submitted by clicking the Application Status tab in your account.
Once your application has been submitted, you will only be able to update your profile information, so please review your application carefully before submitting.
Which Document Types Can I Upload to My Application?
To upload a cover letter, resume, curriculum vitae (CVs), or other document to your application, the document must be one of the following file types:
PDF, DOC, DOCX, TXT, RTF, TIF, JPG, GIF, or PNG
File names cannot have special characters, spaces, commas or apostrophes and file sizes should be no larger than 10 MB.