General Information
Students have the opportunity to earn industry certifications that are recognized by businesses and industries at the local, state, and national level.  These certifications distinguish students as having mastered critical knowledge and skills in their fields of study.   The certifications offered can be found on our Secondary Course Guide page within the description of each CTE course.
Dinwiddie County Public Schools also partners with John Tyler Community College (JTCC).  Students who are interested are able to apply to study concurrently and earn college credit through JTCC.  Our students also have the opportunity to attend Rowanty Technical Center which offers various CTE courses with certifications and licensure availability for certain fields. 
Students enrolled in Career and Technical Education (CTE) Courses have the opportunity to earn credits for participating in Work-Based Learning Programs (WBL). Student must apply and be selected upon successful completion of an interview.  View our Work Based Learning Guide (in PDF format) for more information on WBL opportunities.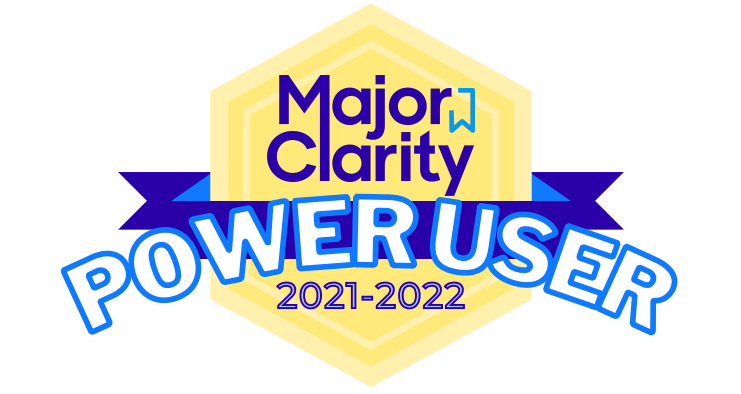 Congratulations to the Dinwiddie HS & MS students and staff for earning MajorClarity Power User distinction for the 2021-2022 school year. This is the third year in a row earning this special recognition!  MajorClarity is a career and college readiness platform used to provide career exploration, college searches, financial aid opportunities, microcredentials and academic planning that allows students to select classes that align with their career goals. All CTE Courses have an associated student organization. These organizations provide the student with opportunities to compete and expand their leadership skills. We encourage all CTE students to participate in these student organizations as a means to showcase their knowledge and skills at conferences and competitions.
The State Council of Higher Education for Virginia (SCHEV) publishes an annual report containing postsecondary education and employment data.  In addition, SCHEV provide a wide range of Research and Statistics.  Visit their Post Completion Wages page, their Data for Localities page, and other informative reports to help guide your child through their educational decisions for the future. 
---
Courses Required for Graduation
Career Investigations  (this is normal paragraph with hyperlink)
Economics and Personal Finance
Introduction to Agriscience – Grade 6
Agriscience Exploration – Grade 7
Agriscience & Technology – Grade 8
Applied Agricultural Concepts (Senior Capstone Course)
Introduction to Plant Sciences
Introduction to Animal Systems
Introduction to Power, Structural, and Technical Systems
Small Animal Care I
Veterinary Science I
Horticulture Science
Agricultural Power Systems
Livestock Production Management (includes Equine Management)
Keyboarding – Grade 6
Make It Your Business – Grades 6-8
Computer Solutions – Grade 7-8 (includes computer science)
Digital Applications– Grade 8-12 (HS Credit)
Business Law
Accounting
Computer Information Systems
Entrepreneurship
Office Administration
Health Informatics
Information Technology (IT) Fundamentals
Programming
Cybersecurity Fundamentals
Career Strategies
Education for Employment I
Education for Employment II
Introduction to Culinary Arts
Culinary Arts 1
Culinary Arts 2
Intro to VA Teachers for Tomorrow
Virginia Teachers for Tomorrow I
Early Childhood Education I (JTCC)
Medical Laboratory Technology I
Medical Laboratory Technology II
Intro to Health and Medical Science
Nurse Aide I (Rowanty)
Nurse Aide II (Rowanty)
Introduction to Marketing
Digital and Social Media Marketing
Fashion Marketing
Fashion Marketing Advanced
Sports and Entertainment Marketing
Real Estate
Marketing Management
Marketing School Store Manager (Application required)
Army JROTC I
Army JROTC II
Army JROTC III
Army JROTC IV
Architectural Drawing and Design (alternates year with Engineering Drawing and Design)
Engineering Drawing and Design (alternates yearly with Architectural Drawing and Design)
Technical Drawing and Design
Sustainability and Renewable Technologies
Energy and Power
Building Trades I
Building Trades II
Auto Body Technology 1 (Rowanty)
Auto Body Technology 2 (Rowanty)
Auto Body Technology 3 (Rowanty)
Automotive Technology I – Mechanic 1 (certified) (Rowanty)
Automotive Technology II – Mechanic 2 (certified) (Rowanty)
Carpentry 1 (Rowanty)
Carpentry 2 (Rowanty)
Carpentry 3 (Rowanty)
Cosmetology I (Two-year Program) (Rowanty)
Cosmetology II (Two-year Program) (Rowanty)
Electricity I* (JTCC and Rowanty – non-DE)
Electricity II* (JTCC and Rowanty – non-DE)
Criminal Justice I* (Rowanty)
Criminal Justice II* (Rowanty)
Masonry I (Rowanty)
Masonry II  (Rowanty)
Welding 1* (JTCC and Rowanty- non-DE)
Welding 2* (JTCC and Rowanty – non-DE)
Welding 3* (JTCC and Rowanty)
Precision Machining I* (JTCC)
Precision Machining II* (JTCC)
HVAC I * (JTCC)
HVAC II * (JTCC)
Industrial Electricity * (JTCC)
Mechanical Maintenance/Industrial Mechanical Maintenance I* (JTCC)
Mechanical Maintenance/Industrial Mechanical Maintenance  II* (JTCC)
*Dual Enrollment Course Credit awarded for course