The Office of Superintendent
Superintendent Dr. Kari Weston is responsible for overseeing Dinwiddie County Public Schools. Dr. Weston directs a dynamic team of departmental administrators from divisional support departments to instructional departments.
She believes that all students should be offered high quality educational programs that are aligned to current state standards/frameworks and to instructional practices that yield the highest standards of student achievement, instructional excellence, and community support in all subject areas. By working together towards this common goal, our division has increased student achievement while preparing them for a bright future.
Dr. Weston is supported by Executive Assistant to the Superintendent and Board Clerk, Ms. Bonnie Gholson. She can be reached at (804) 469-4190 for any inquiries.
---
Chief Academic Officer
The Chief Academic Officer Dr. Amanda Clay assists the Superintendent of Schools by providing leadership and vision in the ongoing establishment of goals, planning, development, coordination, implementation and evaluation of academic services in our school division.
We expect our division to provide the best services to each student tailored to support the highest achievement attainable for each of our pupils on an individual basis.
Dr. Amanda Clay can be reached at (804) 469-4190.
Chief Operations Officer
The Chief Operations Officer Mr. Jeff Walters assists the Superintendent of Schools by overseeing the maintenance, transportation, and athletics for the division.
Mr. Jeff Walters can be reached at (804) 469-4190.
---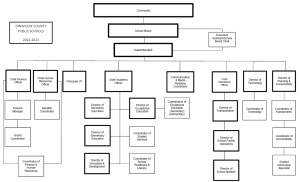 ---
Primary Contacts
Ms. Bonnie Gholson
Executive Assistant to the Superintendent and Board Clerk
P

phone
(804) 469-4190
E

mail
bgholson@dcpsnet.org