Dinwiddie County is centrally located in Virginia in which the heart of Dinwiddie is approximately 40 miles south of the state capital of Richmond. Its rich history abounds throughout 507 square miles of blended suburban and rural communities, positioning itself as a great place to live, learn, and call home.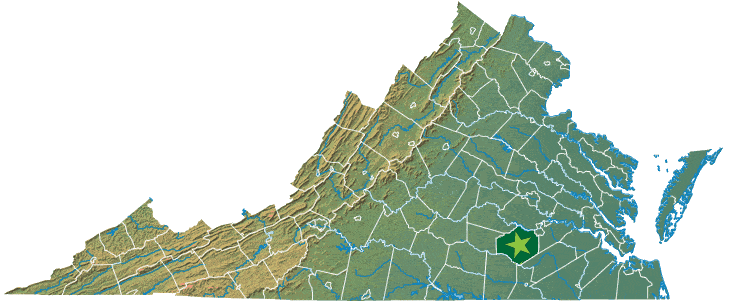 Dinwiddie County was established on May 1, 1752, and is governed by a five member Board of Supervisors and a County Administrator. Its government shares a mutually supportive and symbiotic relationship with the Dinwiddie County School Board, making our school system a place that nurtures, encourages, and helps our students succeed.
Some of the local attractions that Dinwiddie is known for is the Virginia Motorsports Park (VMP) (the only park of its kind on the east coast), Pamplin Historical Park and the National Museum of the Civil War Soldier (recognized as one of America's premier historical attractions and the most innovative Civil War history park), Dinwiddie County Sports Complex (the only venue of its kind in the region, complete with fields for baseball, football, soccer and a state-of-the art concessions facility), beautiful Lake Chesdin along its northern boundary, as well as many great local businesses.
Dinwiddie is proud of the quality of life enjoyed throughout the county.  Come visit and we hope you decide to be a part of the Dinwiddie family! For more information, please see the links below:
Dinwiddie Parks and Recreation Department
Dinwiddie County Chamber of Commerce