Dinwiddie County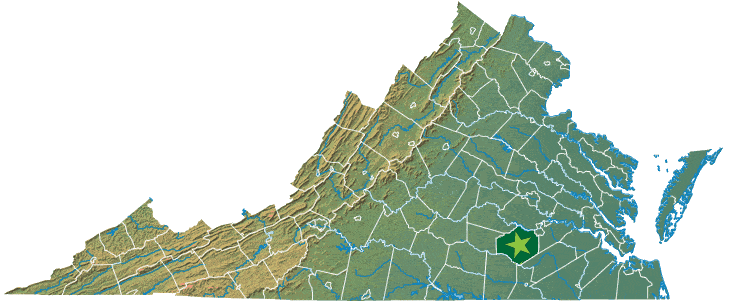 Centrally located in Virginia is the heart of Dinwiddie and is approximately 40 miles south of the state capital of Richmond. Its rich history abounds throughout 507 square miles of blended suburban and rural communities, positioning itself as a great place to live, learn, and call home.
Dinwiddie County was established on May 1, 1752, and is governed by a five member Board of Supervisors and a County Administrator. Its government shares a mutually supportive and symbiotic relationship with the Dinwiddie County School Board, making our school system a place that nurtures, encourages, and helps our  students succeed.

Dinwiddie County Public Schools (DCPS) division prides itself with a strong sense of connection and family, and supportive, caring and deeply committed staff and teachers. This strong connection is enhanced by the multiple generations that have gone through DCPS as students and then have returned to live and work in the community, often as an employee within the school system. Additionally, DCPS holds high expectations for its students and staff in their achievement and performance.
The Meaning Behind the Dinwiddie County Public Schools Logo and Tagline
The Dinwiddie County Public Schools logo represents a number of positive aspects about the school system. The tree conveys a dynamic system of continual and upward growth, which is firmly grounded in its deep generational roots. It also pays honor to the agricultural history of Dinwiddie County. The branches signify the organic support system for students and staff as they grow and develop through their learning and experiences in school. The images of people within the branches can be interpreted as joyful, which depicts that authentic learning is fun and exciting. Finally, the stars represent the high expectations for and successes of both students and staff.
The tagline, "Deep Roots, Great Heights" communicates the essence of the DCPS brand, which celebrates DCPS' foundational connections as well as its stellar accomplishments.  Like the many diverse trees we have in our rural community, we have roots that run deep like our hickory trees where we enjoy teachers, parents, and students going back generations.  Then there are the oak trees, with their roots running wide and vast like arms welcoming in those around them, just as our many  newcomers are welcomed and are now a part of our DCPS family.
We hope you consider Dinwiddie County Public Schools and we look forward to serving your family and meeting your expectations!