April 16: After Spring Break Covid-19 Testing
Crater Health District will be offering post spring break COVID-19 testing.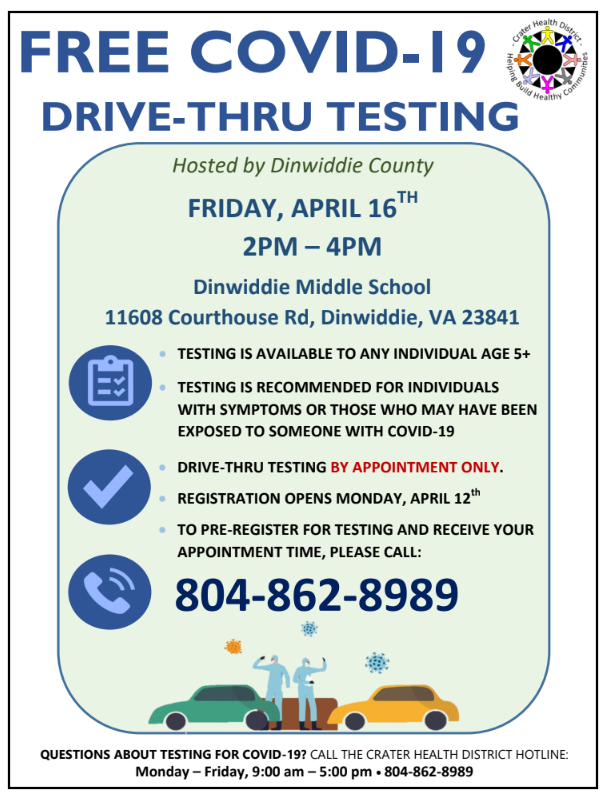 We hope each of you had a great spring break!  With the beautiful summer-like days, holiday socials, and allergy season in full bloom.. FREE COVID-19 drive-thru testing will be available to anyone in the community the week of April 14-21 at various locations. There will be an event locally at Dinwiddie Middle School on Friday, April 16, from 2 to 4 p.m. in the parking lot. Testing is available for anyone 5 years and older, but minors must have a parent present.
To be prepared, it is requested that individuals sign up the day before the date they plan to attend to ensure there are enough supplies.
| | |
| --- | --- |
| Date and Time | Crater Health District Testing Location |
| 4/14/21 from 3 to 5 p.m. | Pathways, 1200 West Washington Street, Petersburg, VA |
| 4/15/21 from 3 to 5 p.m. | Hopewell/Prince George, 400 Cavalier Square, Hopewell, VA |
| 4/16/21 from 2 to 4 p.m. | Dinwiddie Middle School, 11608 Courthouse Road, Dinwiddie, VA |
| 4/19/21 from 3 to 5 p.m. | The Golden Leaf Commons, 1300 Greensville County Circle, Emporia, VA |
| 4/20/21 from 3 to 5 p.m. | Surry County Rescue Squad, 1239 Colonial Trail West, Surry, VA |
| 4/21/21 from 3 to 5 p.m. | Sussex County, 233 South County Drive, Waverly, VA |
| 4/21/21 from 3:30 to 5 p.m. | Pathways, 1200 West Washington Street, Petersburg, VA |