Uploading Documents Securely
This upload file system is to be used for

Preschool and Head Start applications only

. 
For kindergarten througth twelfth grade, please use our Online Registration application to upload documents during your registration process. 
To safely upload your child's registration forms or other documents to Dinwiddie County Public Schools or Central Office, please read the directions below first and then click the link to access our secure document upload page.
Directions:
When you first click the link you will need to enter:

Your name (Parent/Guardian)
Your email address
Your child's name (the student)
Your phone number.
IMPORTANT:   In the last box – "Message for Dinwiddie County Public School Administration", please include the following:

Your child's school (example: Sutherland, Sunnyside, Middle School, High School, etc.)
A short message about what you are uploading (example: registration documents, change of address documents, out of zone form, custody documents, etc.)


Click Next.
In the next window, choose the file(s) you want to upload by clicking "Choose Files" or drop files on top of the designated area.

Wait for the files to upload completely (they will turn green). Once complete, hit the "Done" button.
A message saying the files have been successfully uploaded will appear and it will give you the names of the files.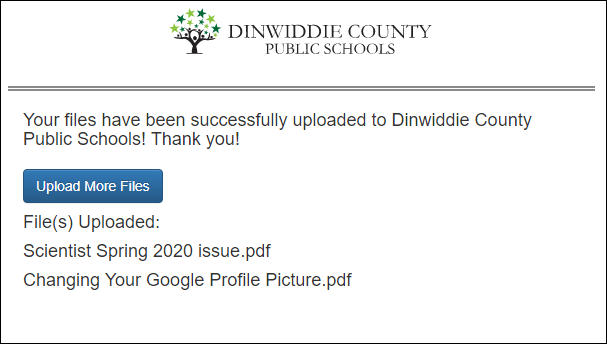 If you are having issues uploading files, you can try the following things that might help:
Your internet connection could be too slow.  You may go to the school and park outside of it so you can access the Public WiFi at our schools for a possible faster internet connection that will allow you to upload the documents.  Of course, that is if you are using a smart phone, tablet, or laptop.
If you are uploading pictures you have taken of your documents on your Smartphone…. your files may be very large if your pictures are high definition.  You can try retaking pictures of the documents with the HRD (high definition) turned OFF on your Smartphone.
If you have further questions, please feel free to contact your child's school.
Please give the registrars one business day to receive your documents should you need to ask questions.   We look forward to having you as part of the Dinwiddie County Public Schools family!