A quarterly newsletter designed to highlight DCPS Career and Technical Education programs and events
| | |
| --- | --- |
| VOL. 2, ISSUE 2 | FEBRUARY 2021 – JUNE 2021 |
Carly Woolfolk – Director for Secondary Education & CTE
Dawn Cater – Instructional Specialist for Career Readiness
Mary Jo Beville – Executive Secretary for Secondary Education & CTE
DMS National FFA Organization: Alan Richie, Advisor
DHS National  FFA Organization: Laurel Bishop, Thomas Davis,  & Alexis Smith Advisors
DMS Future Business Leaders of America (FBLA): Kimberly Roselle & Juliana Lashley-Grant, Advisors
DHS Future Business Leaders of America (FBLA): Krystle Bailey, Karon Nivens, Todd Williams, & Cierra Gravely, Advisors
DHS SkillsUSA: Sam Porter & Randy Bullock, Advisors
DHS Army Junior Reserve Officer's Training Corps (JROTC): MAJ Robinson & SFC Richardson, Instructors
DHS Family, Career and Community Leaders of America (FCCLA): Vacant
DHS DECA: NaTonya Robinson-Williams, Advisor
---
Building Trades Students Showcasing What They Are Learning
Mr. Porter, the Building Trades instructor strives to give students the opportunity to showcase what they are learning. Not only do students get hands-on training, they also earn their Workplace Readiness Certificate and OSHA 10 card. They are required to demonstrate proficiency with technology, tools and machines common to building trades occupations. Congratulations to these students for their accomplishments.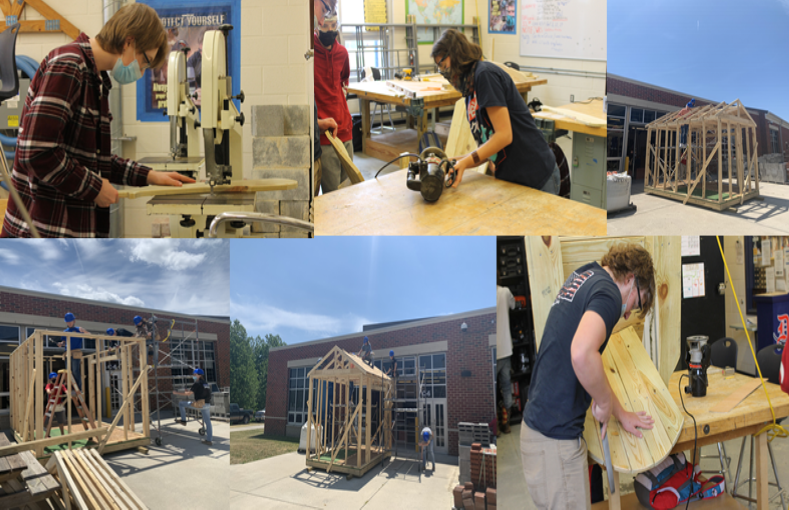 ---
Marketing Students Conducting Community Service in Support of Earth Day
Earth Day is an international event in support of protecting our environment. This year marked the 51st anniversary of the annual celebrations. The theme for Earth Day 2021 was "Restore our Earth". Dinwiddie High School students in Mrs. Robinson-Williams's Introduction to Marketing class recognized Earth Day during the week of April 19, 2021, by taking some time to pick up trash and debris around the high school.
---
Dinwiddie High School FFA Competes During Challenging Times
Congratulations to the Dinwiddie High School FFA members who represented Dinwiddie at the state level.  This past spring they competed in the state competitions. Corey Mann competed in the State Tractor Operator's competition where he placed ninth. The FFA Cattle Working Team, consisting of Colby Ainsley, Jill Reiter and Savannah Schnepf also placed ninth in the State Cattle Working Competition. Congratulations to these students on a job well done, especially during the limitations and restrictions they have endured over the past year.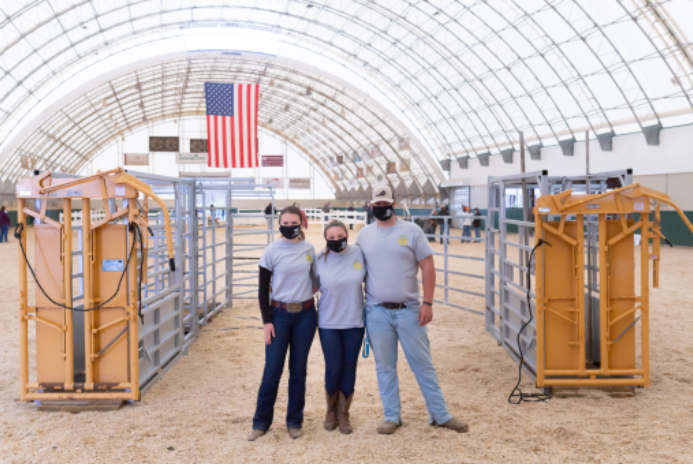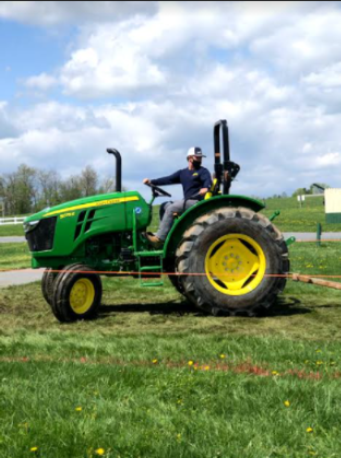 ---
Dinwiddie High  School Energy & Power Students Achieve a 100% Pass Rate for the Energy Industry Fundamentals Certification
The 15 students who actively participated in Mr. Bullock's Energy & Power class engaged with the Energy Industry Fundamentals modules throughout the spring semester and took their certification test in May. Mr. Bullock attributes much of his students' success to their commitment to the course and the real world connections embedded in the curriculum, including the data retrieved from the recently installed solar panels that was funded by the NEED project in collaboration with Dominion Energy. "I'm proud of all my students' hard work and preparation for this Certification. They have been pouring over the modules in study sessions for the past twenty days. Half of the students worked from home and we all collaborated using Google Meets daily", stated Bullock.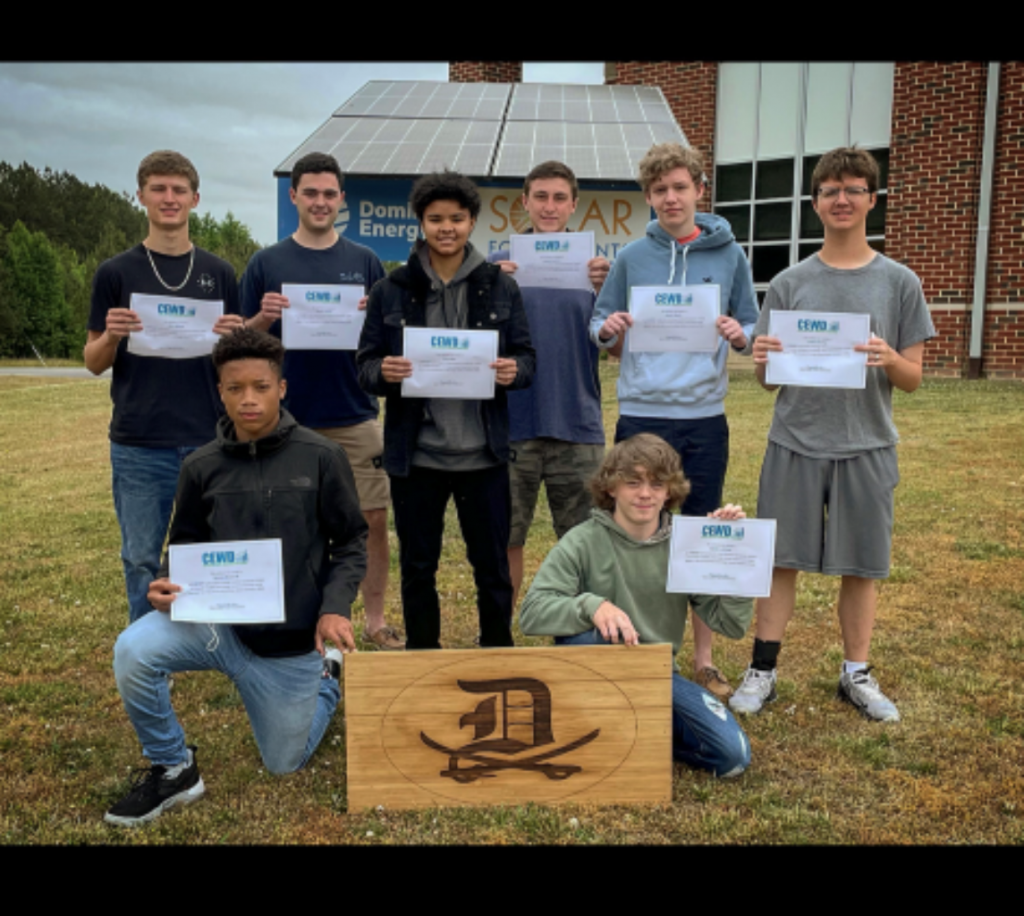 ---
Crater Region School Districts Conduct the First Annual CTE Signing Day
The first annual CTE Signing Day for the Crater Region's eight school districts, sponsored by John Tyler Community College (JTCC) and the Career & Education Consortium, was held May 19, 2021 at JTCC. The participants included seven local businesses and eight students. The Dinwiddie students and the business with whom they received a letter of intent to hire are as follows:
Another Dinwiddie business partner, McCray Electrical Company signed a student from Prince George Public Schools. The students were either new hires or those transitioning from part-time to full-time employment.  Congratulations to the students and thank you to our business partners for providing them with this opportunity.
---
CTE Students of the Year
The DCPS CTE program recognizes those students that have displayed exceptional leadership, motivation, and dedication within their respective Career & Technical Student Organizations (CTSOs).  Although participation in activities were severely impacted over the past year, some programs were able to identify exemplary students for their support and participation. Congratulations to all the students that work diligently to make each of the Dinwiddie County Public Schools CTE programs a success:

---
Workforce Ready Diploma Seal Initiative
The Crater Region, consisting of the Colonial Heights, Dinwiddie, Greensville, Hopewell, Petersburg,           Prince George, Surry and Sussex school districts have collaborated in the development of a Workforce Ready Diploma Seal program. To earn the seal, students must achieve a minimum of 20 points as outlined in 12 different achievement categories. Students who earn the Workforce Ready Diploma Seal will be given preference for job interviews at partnering employers if they meet all other requirements for employment. Employers will have a direct connection to students who have graduated and who demonstrate the highly sought after employability soft skills required to be successful in today's workforce.  Congratulations to the 12 students pictured below for being the first Dinwiddie students to earn this new diploma seal. A red and black graduation cord was also presented to the students at the June 8th School Board meeting.
---
#CTE4ALL