DCPS CTE News
A quarterly newsletter designed to highlight DCPS Career and Technical Education programs and events
| | |
| --- | --- |
| VOL. 1, ISSUE 3 | DECEMBER 2019 -MARCH 2020 |
Carly Woolfolk: Director, Secondary Education & CTE
Dawn Cater: Instructional Specialist, Career Readiness
Mary Jo Beville: Executive Secretary, Secondary Education & CTE
DMS National FFA Organization: Alan Richie, Advisor
DHS National  FFA Organization: Cindy Blaha & Laurel Bishop, Advisors
DMS Future Business Leaders of America (FBLA): Kimberly Roselle & Juliana Lashley-Grant, Advisors
DHS Future Business Leaders of America (FBLA): Pinkie Hall, Krystle Bailey, Karon Nivens & Todd Williams, Advisors
DHS SkillsUSA: Sam Porter & Randy Bullock, Advisors
DHS Army Junior Reserve Officer's Training Corps (JROTC): MAJ Robinson & SFC Richardson, Instructors
DHS Family, Career and Community Leaders of America (FCCLA): Christian Warf, Advisor
DHS Distributive Education Clubs of America (DECA): NaTonya Robinson-Williams & Lori Massengill, Advisors
---
DMS Students Visit the Dinwiddie Water Authority Treatment Plant
Career Investigation students made a visit to the Dinwiddie County Water Treatment Plant on January 24, 2020. The treatment plant is located approximately four miles form the Middle School on Bishop Street. The students spent the first portion of trip in the laboratory where they learned how the water is treated to make it safe for human consumption and use. After discussing the details of the operations, the students were taken on a tour of the treatment area.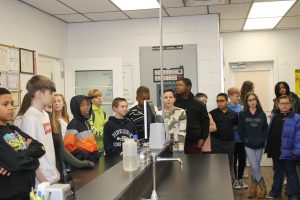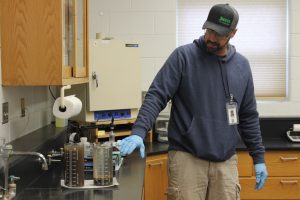 Building Trades Class Conducts Their First SkillsUSA Competition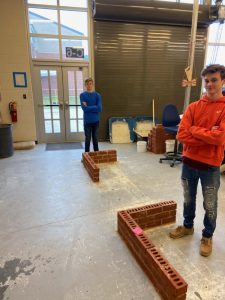 Mr. Porter conducted a masonry competition with his students on February 25, 2020. The students were required to construct a brick wall with a corner lead. The task was to be completed unassisted and with only their tools. Chase Bishop took 1st place and Ryley Allen won 2nd place. Supplies for the brick and masonry portion of the class has been donated by Shades and Wise Brick Company.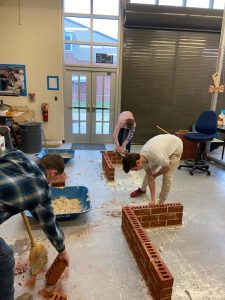 Spring Industry Day Introduces New Business Partners
Traditionally, the Spring Industry Day is held in February to coincide with CTE month. The event held on February 28, 2020 had over 60 businesses registered with 16 of those as new attendees. Students were afforded the opportunity to register for up to eleven sessions that covered occupations such as news media, logistics, personal services, medical services, electrical careers, the energy field, finance and videography.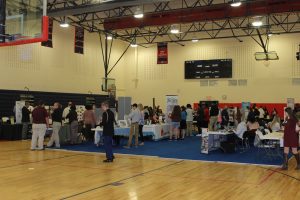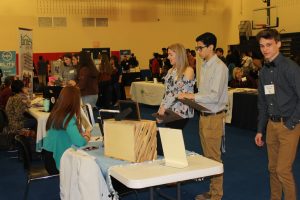 The gymnasium held over 50 businesses. The feedback from both students and business partners showed that this event has consistently improved each year and continues to provide a mutual benefit to DCPS students and the business community.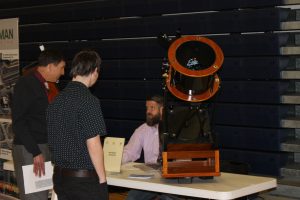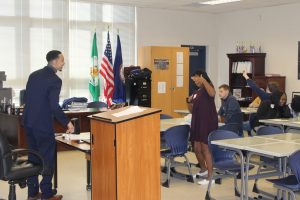 Rolls Royce Crosspointe Sponsors International Women's Day Event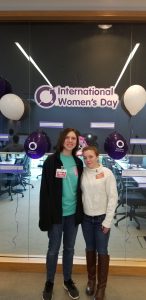 On March 6, 2020, Rolls-Royce Crosspointe invited two 10th grade girls from area high schools to visit their facility in honor of International Women's Day. Students participated in an interactive and energizing day showcasing jobs in manufacturing engineering, machining, inspection, quality, and leadership.  International Women's Day (IWD), first celebrated in 1911, is a call to action to accelerate women's equality and celebrate the social, economic, cultural and political achievements of women. The event included a site tour, job shadowing, discussions and lunch. The women at Rolls-Royce shared their career paths and lessons learned in presentations and lunch table discussion groups. Dinwiddie High School students in attendance were Milagro Batman and Adeline Burke.
DECA Students Make a Stand at the DECA District and State Leadership Conferences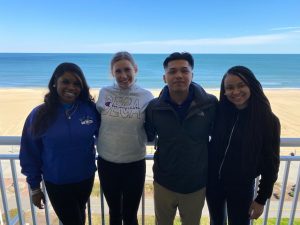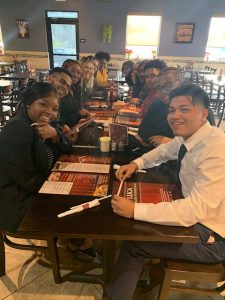 DHS DECA students attended the District Leadership Conference held December 11, 2019 at Prince George High School. Students competed in various categories such as Human Resource Management, Principles of Marketing, Quick Service, Restaurant Management, and Marketing Communication. Eleven students competed and four went on to compete at the State Leadership Conference held February 28- March 1 in Virginia Beach, VA. MaLeigha Booker, Angel Martinez-Soriano, Maegan McQuiggan, and Carlaisa Jackson competed against students from schools within the state of Virginia for a spot at the National Competition. All participants except one were first time attendees at the state level. Sophomore Carlaisa Jackson was able to serve as a voting delegate, which sparked excitement as she looks forward to the 2020-2021 School Year. She is eager to learn more and wants to serve as a DECA officer next year.
DCPS Students Participate in the First Tri-Cities STEAM Competition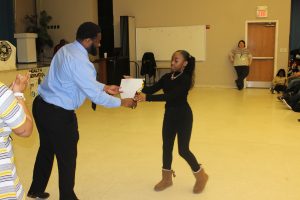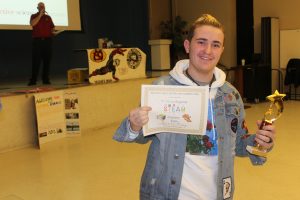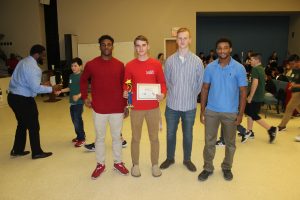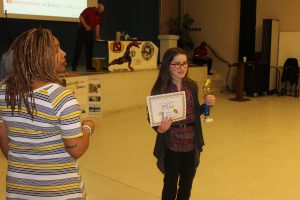 Local area schools banned together in a joint effort to establish a regional competition among all the smaller school districts. The intent of this competition was to provide students the opportunity to showcase their abilities amongst other local smaller districts. The event took place on March 3, 2020 at Virginia State University. DCPS had student participation in the following categories: Rap Battle (DHS) and Engineering Design (DHS); Career Cluster Poster (DMS). The engineering design team of Desmond Green, Logan Henley, Chris Parham and Ryan Wood took 1st pace; Ian Mizelle took second in the rap battle and from DMS, Jordan Mayes and Imani McLaughlin took 1st and 2nd place respectively in the Career Cluster Poster competition. Other school districts that participated included Prince George, Hopewell, Colonial Heights, Petersburg and Charles City.
High School Students Receives Internship at Rolls Royce Crosspointe
Rolls Royce Crosspointe located in Prince George County offers paid, part-time internship opportunities to students from local area high schools. Students will learn different things about the company, product flow, operations, and machining. At the end of this experience, selected interns may be offered full time  employment as an apprentice.
This year DHS senior Shelby Lail was selected for one of the internship positions. Shelby stated that "getting the internship with Rolls Royce has been an amazing opportunity. I have already learned so much more than I expected. Before I got the internship, I wasn't quite sure what I was going to do after high school. I never pictured myself being able to run five machines at the same time. I'm so proud of myself and everything I have accomplished so far during my journey. I definitely plan on continuing a career in manufacturing."
Dinwiddie Energy & Power Students Selected for the Dominion Energy Solar Program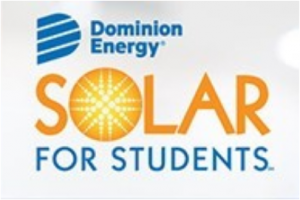 As part of Dominion Energy's effort to expand its solar power infrastructure the Solar for Students program was developed. It provides students the chance to observe and learn firsthand about harnessing solar energy from a solar array. Participating public schools and educational organizations receive a 1.2 kilowatt solar system that converts sunlight into electric power, educational materials, and training for educators. Students will be able to track the generation of electric power by viewing their data online and can challenge other participating schools around the world to a solar power match to see who generates the most. DHS students Jordan Embry-Ziegler and Christopher Parham worked first-hand in completing the grant application. Dinwiddie is one of 16 schools selected from a pool of schools throughout Virginia, North Carolina and South Carolina.
#CTE4ALL