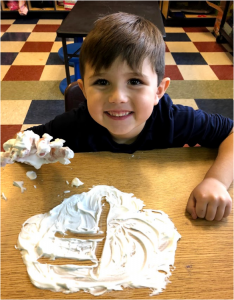 Dinwiddie County believes that the kindergarten program's purpose should provide an education, which is adaptable to each child's needs, interests, and level of development. Children's social, emotional, physical, and intellectual growth, are enhanced through a variety of activities which meet individual and group needs. The kindergarten program:
Focuses on oral language development as the basis for writing, reading, and thinking.
Builds on, improves, and increases the knowledge skills that children bring to school.
Promotes an appreciation of the similarities and differences among people.
Incorporates active learning through body movement activities, manipulation of learning materials, and interaction with others.
Uses ongoing performance assessment to observe, document, and analyze children's learning behavior in the areas of language arts, math/science, and fine and gross motor skills.
Encourages a love of learning.
Children learn, grow, and develop at different rates. Differences can be observed in children of the same age who may vary in their ability to perform certain physical, social, or intellectual tasks. The Dinwiddie County Public Schools' kindergarten curriculum takes into consideration these differences in young children while fully implementing all educational objectives as outlined in the Virginia Standards of Learning. Through differentiation of the instruction in the classroom, all students will progress at their own rates of development. Each student is given the opportunity to experience success, and build a positive self-concept. Classroom resources and adopted curriculum materials allow for teachers to plan extension or remedial lessons for students. Programs such as the states Early Reading Initiative (PALS) support students with reading deficits.
In the elementary years, a sound foundation in speaking, writing, reading, and mathematics prepares students for academic success in later years. Wherever possible, concrete objects and manipulative introduce concepts to students. Activities that include learning experiences using real objects help students to understand concepts and ideas prior to the introduction of abstract symbols.
---
Kindergarten Curriculum
Language Arts
Children learn about reading and writing from hearing stories read aloud; seeing others read and write; reading and writing with the teacher; and having opportunities to interact with books, writing materials, and other forms of print. These learning experiences occur daily. When reading and writing, the children are encouraged to draw on background experiences and pictures, use meaning, language structure, and phonics (letter-sound) cues. Big books (books with large print and pictures) class books, and stories or poems with rhyme, rhythm, or repetitive patterns are appealing to kindergarten children and are used daily in the classroom.
Development of letter-sound relationships occurs within the framework of stories the children read and write. This specific instruction is always tied to meaning. Foundations for reading and writing are built on what children already know and by expanding and enriching their language through experiences that encourage listening, thinking, and speaking.
Mathematics
In kindergarten mathematics, children begin by using concrete objects to represent numbers, compare quantities (such as many, few, none, same, and different), represent and extend patterns, match and identify shapes and sort objects. Problem-solving skills are encouraged and developed throughout the year.
Science
In science, children investigate and understand simple patterns in their daily lives by recognizing classroom routines, observing and discussing daily weather patterns and seasonal changes. Children begin to investigate and understand the needs and life processes of plants and animals. Activities with shapes, magnets, sand and water encourage further discovery, investigation, and problem solving.
Social Studies
Children examine a variety of picture books, information books, and other materials to acquire additional knowledge about themselves as individuals, part of a family, and a community. Children share family traditions and celebrations, observe changes within the community, and explore American traditions, leaders and historical events. In geography, children begin to learn basic term and skills, and locate areas of land and water on maps and globes. Differences between economic needs and wants are included in the social studies program. Children participate in music, art, writing, technology, poetry, and dramatic representation activities as part of these learning experiences.
Music and Physical Education
The Music and Physical Education strand provides students with integrated activities in music and physical education. Children are involved in activities, which emphasize the development of motor skills, physical fitness, coordination, musical skills, and creative expression. Children use balls, plastic hoops, and musical instruments to help develop these skills.
The kindergarten program utilizes a variety of learning centers for small group and individual learning. Center activities incorporate skills used in different areas of the kindergarten program. These centers include blocks, art, math, science, listening, dramatic play, and beginning reading and writing centers. Centers may change to meet the needs of a particular unit of study.
Technology
Kindergarten students in Dinwiddie County are involved in computer on-line and off-line activities. These activities give students a basic introduction to the computer, the computer keyboard, and use appropriate software that supports the instructional program.
---
How Parents Help Children at Home
Educators in the Dinwiddie County Public Schools recognize that the parents, more than anyone else, are the closest observers of their child. Parents are a child's first teacher and they know their child in ways no one else does. The ability of the parents to assist in the educational development of their child enhances the child's progress toward reaching his or her fullest potential.
Parents enjoy the "wonder of newness" exhibited in their children as they develop emotionally, physically, and intellectually. Research indicates that the most successful students have parents involved in their school lives.
The Parent's Role
In helping the child learn at home, the parent's primary role is one of encouragement and reinforcement. Parents can enhance what is experienced at school and foster a sense of excitement and a love for learning. Opportunities for parents to encourage the natural development of the child are endless.
Infants learn to speak through observing others speak. They experiment with sounds, which are translated by their parents. Parents repeat and respond to what has been said in adult language. When your children are given lots of time and encouragement to practice the new things they learn about language they start to talk. Children learn to read and write in a manner similar to the way they learn to speak. They observe others reading books, directions and signs. They watch those around them write shopping lists and letters. Through watching others, they try these activities. By reading license plates, food labels or other objects around them children learn that print is meaningful and useful. Whether scribbling on scraps of paper, writing a note to a parent with letter like marks or reading a book by looking at the pictures these attempts should be accepted and encouraged. In addition, children should be given time to practice and develop reading and writing skills.
Your child will exhibit many beginning reading and writing behaviors throughout this year. Some of these behaviors are listed and described below.
Approximate Reading – "Approximate Reading" is retelling a story from memory using the story's picture clues. Children may use their finger to point to words or pictures.
Scribble Writing – Scribble writing is making different lines or strokes, which may or may not refer to specific words or letters.
Labeling – Children label or comment on items found in books.
Reciting a Story Orally – Children recite a story orally while looking at pictures.
Using Temporary or Inventive Spelling – Temporary or inventive spelling is the use of a letter or letters to represent a word or phrase. For example, l or lik may be used to represent the word like. Given school instruction children often transition to use traditional spelling within two years.
To effectively support the child's educational progress parents are encouraged to:
Recognize that play is the natural way children learn
Read to the child daily or as frequently as possible
Understand that young children require concrete, "hands-on" learning experiences
Provide varied activities and experiences that contribute to learning
Encourage the child to learn through discovery
Provide a rich verbal environment
Discuss experiences with the child
Praise the child for strengths and be patient with regard to areas not yet developed
Effective Ways Parents Can Help Their Child Read:
Read with your child every day. Read a variety of stories (folk tales, fables, information books, and poetry). Read different written materials such as cereal boxes, recipes, books, magazines, signs, and greeting cards.
Model reading and writing in your home. Involve your child in writing shopping lists, telephone messages, or reading letters from relatives. Let your child see you reading books, instructions, newspapers, and magazines.
Expose your child to wordless picture books. Such books encourage your child to use picture clues to make up his/her own stories.
Encourage your child to take chances. Build the concept that learning means taking chances and not always being right.
Take trips to the library.
Include your child in family discussions. Use questions that involve who, what, where, why, and when.
Use family activities as a chance to explore new language. Visit and talk about the zoo, library, park, store, movies, or sports events.
Play games that involve following directions. "Simon Says" is a good game that involves following directions.
Sing and read simple songs and nursery rhymes. (Twinkle, Twinkle Little Star; Wheels on the Bus). Clap the rhythms.
Read and follow recipe directions. This provides children with the opportunity to listen to and follow step-by-step directions.
Reread favorite stories. Allow your child to choose the book for story time.
Provide writing materials – pencils, pens, chalk, markers, crayons, different sizes and colors of paper, envelopes and tape. Allow your child to write messages to family members, book authors, or friends. Also leave notes on the refrigerator or in a lunch box from you to your child.
Ask your child questions, which require more than a "yes" or "no" answer. Example: "What do you think will happen to Goldilocks?"
Look at books and magazines and ask questions about what was read.
Listen to your child when he or she speaks. Show that you are interested in what is being said. This encourages good listening habits.
Help your child develop muscle coordination by letting your child:
Draw letters or numbers in the sand or on the sidewalk with a paint brush and water
Use puzzles
Use clay or dough
Use crayons, scissors, snaps, buttons, zippers
Run
Catch a ball
Hop on one foot and two feet
Help your child develop independence by letting him/her:
Make simple choices
Help choose his or her clothing
Perform simple household tasks
Dress him or herself when possible
Find letters of his or her name in books, magazines, or signs
Sort things by size, shape, and color (clothing, buttons, dishes)
Count seeds, pennies, stamps, M&M's or any other objects
Locate food items in the grocery store by looking at the pictures and the labels
When reading with your child:
Let your child have opportunities to choose what book they want to read.
Pick a quiet time to read.
Refer to your child as a "reader."
Sit close to your child. Let your child see the pictures and print.
Praise your child for any attempts to participate.
Point to words as you read them.
Discuss words that your child may not understand.
Talk about the story and story characters. Compare with other stories.
Ask open-ended questions.
Reread the book and encourage your child to join in on familiar phrases, turn the pages, and predict what will happen next.